Shredder & Screw press AIO(All In One Machine) is the machine that integrate industrial shredder with dewatering screw press. The all in one design for combining size reduction and solid-liquid separtion in one step without conveying. The shredder & Screw press AIO can be used in the waste-to-energy application such as refuse-derived fuel (RDF) processing, the waste-to-green application such as biodegradable organic waste composting,the application of commercial liquid food waste processd into biodiesel, and so on. The weight and volume of the waste after treated are greatly reduced and save transport cost.
♦ For the case of processing large capacity, we use several dewatering screw presses in parallel arrangement , each screw press can be individually controlled without mutually interfere, they can work at the same time to increase the capacity,to reduce the power consumption, they can work only one or two when small capacity you required.
♦ For kitchen waste and other fluid state material waste, we are equipped with automatic feeding system, and add the protective cover at the hopper to prevent waste to splash during automatic feeding.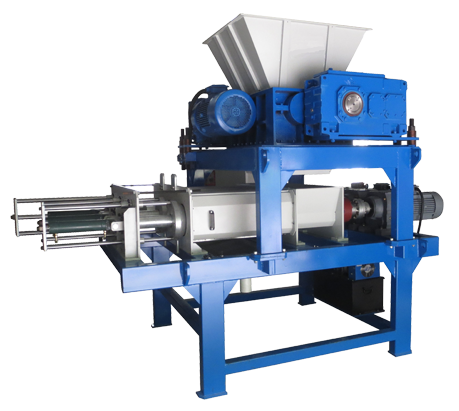 Shredder & Screw Press AIO Features:
♦  Low-speed shredding, whether hard or soft materials can be shredded, high efficiency, strong processing capability.
♦  Shredding and dewatering integration design, greatly saves working space, reduce operating costs.
♦  Compact, robust, shredder and dewatering screw press can be independently disassembled, easily maintenance.
♦  The cutting blades uses high quality alloy from Europe, high hardness and toughness, with strong wear resistance and           impact resistance.
♦  Intelligent, automatic reverse to jammed hard foreign matter.
♦  Stainless Steel Wetted parts.
♦  Spring or Pneumatic Back Pressure Devise.
♦  Multiple Sizes for Any Capacity.
♦  Easy to Install and Operate.
Application:
♦ Kitchen Waste.
♦ Organic Waste.
♦ Domestic Waste.
♦ Residue of herbal medicine.
♦ Sea food.
♦ Cooking Oil.