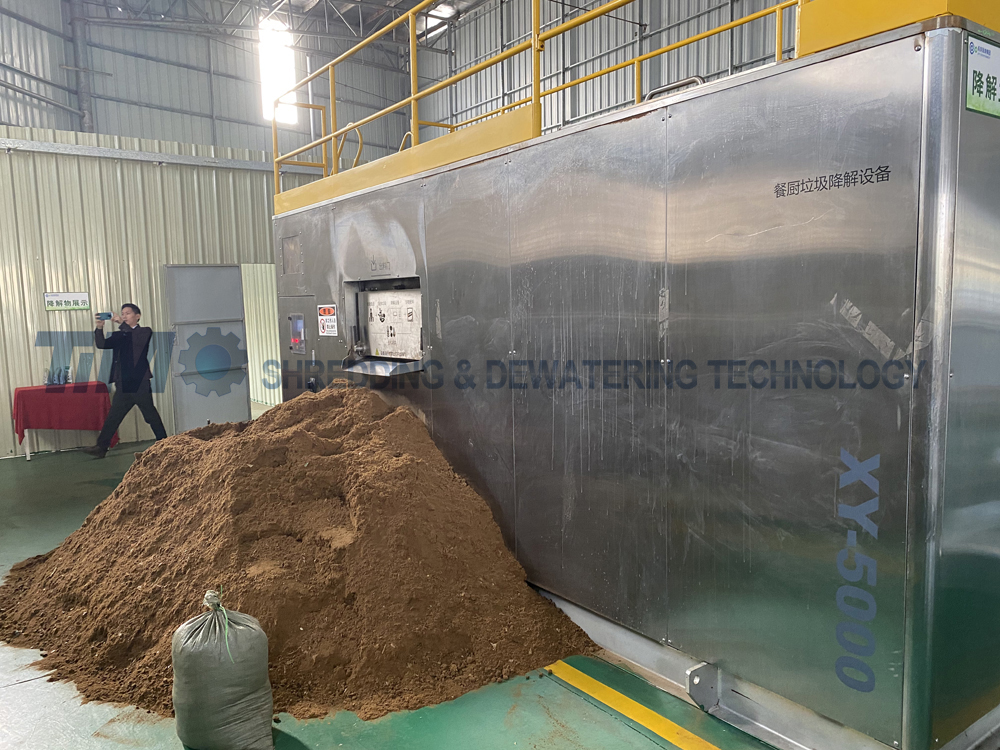 Industrial Composter for Food Waste Aerobic Fermentation
Industrial composter model XY-5000 for food waste aerobic fermentation use high-temperature aerobic microbial treatment technology, integrated biological engineering, mechanical and electrical engineering, environmental engineering technology in one, the basic principle is that selecting high-temperature aerobic complex microbial strains and carry out in the high-temperature, high-speed fermentation aerobic fermentation machine XY-5000 to makes the unstable organic matter in the kitchen/food waste completely treated and transformed into a more stable humus.
Specification of Microbial Strains:
Carefully cultivated and selecting by the team of experts, the most vigorous high-temperature aerobic microbial strains in nature, having complete intellectual property rights;
&nbsp&nbsp&nbsp&nbsp1. Composed of 7 kinds of beneficial microbial complex bacteria, it can efficiently deal with various types of kitchen waste;
&nbsp&nbsp&nbsp&nbsp2. Stay in a dormant state at room temperature, but it can grow and multiply rapidly at about 60 °C, and decompose kitchen waste in the process to provide nutrients for its own growth;
&nbsp&nbsp&nbsp&nbsp3. Self-propagation, no need to repeatedly add or change strains during processing;
&nbsp&nbsp&nbsp&nbsp4. According to the testing of Guangdong Institute of Microbiology, the strain is hereditary and stable, the degradation of the strain is efficient, and it is safe and harmless to the environment.
Advantage of Aerobic Fermentation Machine XY-5000:
♦ Wide range of applications, to achieve catering, kitchen waste, fresh, fruit and vegetable four-in-one mixed disposal;
♦ Widely applicable objects, there is no need to make special adjustments to the grease and PH value of garbage before treatment;
♦ The degradation capacity is fast, the degradation is completed within 24 hours, and the reduction rate can reach more than 85%;
♦ Excellent performance of strains, high genetic stability of high-temperature aerobic microorganisms, repid propagation, one-time input of strains, no need to add repeatedly;
♦ Good sterilization of germs, equipment temperature maintained at 60 degrees, effectively killing various pathogens and parasites including African swine fever;
♦ Low unit energy consumption, high-efficiency heating system, thermal insulation system and exclusive patented energy-saving control technology, energy saving and power saving;
♦ The resource effect is high, and the degradables can be deeply processed into organic fertilizers; Oily wastewater can be separated from waste oil and reprocessed into biodiesel;
Technical Data of XY-5000: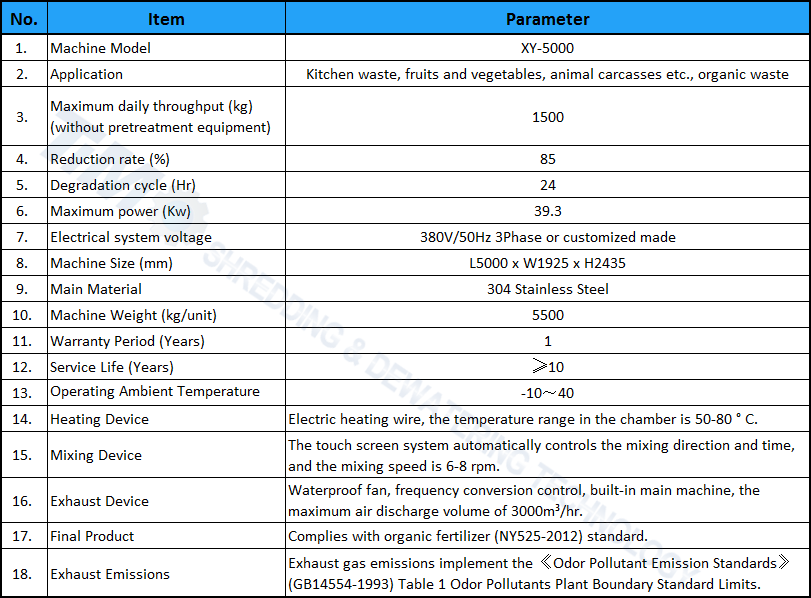 3D Layout drawing & Product Showing: