Slaughterhouse Waste
Slaughterhouse waste (or abattoir waste) treatment has been a major environmental challenge for all over the world. In most of the developing countries, there is no organization for disposal of solid as well as liquid wastes generated in abattoirs.There are several way for beneficial utilize the slaughterhouse wastes including biogas generation, fertilizer production and utilization as animal feed.Anaerobic digestion is the best options for slaughterhouse waste treatment which produce energy-rich biogas, reducing Greenhouse gases emissions and effectively control the pollution in abattoirs.
The size reduction equipment-industrial shredder take very import role in the biogas production process,the shredding process will help the pasteurization easier and more efficient. TIMO provide size reduction equipment capable of handling 2-25t/day of slaughterhouse waste with a required particle size at output of 10-15 mm. Our sturdy shredders have special seals and have no trouble processing bones or the whole animal Carcasses. We also offer additional equipment versions and are able to optimize the shredding machine to your requirements.
Complete Carcasses of Cattle, Horses And Pigs Industrial Shredder
The dead animal industrial shredder AS2000 is especially designed for size reduction of complete carcasses of cattle, horses and pigs as well as all sorts of offal and bones from slaughterhouse, prior to the rendering process in the animal by-products industry. AS2000 can process the whole cattle, horse and pigs in 20 second. The capacity is up to 7-10 tons/hr.
The industrial shredder is installed as the first stage of a rendering plant, always doing the hard work before crushers and mincers for final grinding if necessary. All rotor-knives and stator-knives are hard faced.
Low operation costs are assured as the motor size and shredder shaft speed can be adjusted to the required capacity. the design allows quick maintenance and replacement of spare and wear parts, making the industrial shredder AS2000 a very efficient machine.
Dead Animal Shredder AS2000 Feature:
♦ Overload protection with automatic reversal-shredders include an electronic protection system to automatically stop and reverse the shredding action in the event of system overload. The system allows the shredder to clear itself and then continues the shredding process automatically.
♦ Advanced bearing protection system-Multiple barriers of mechanical labyrinth and conventional seals, protecting costly bearings and ensuring maximum on-line reliability.
♦ A mash cage around the bottom of the large shredder, permanent mesh on 3 sides and one mesh door on the front with a safety switch.
♦ Economical & practical-From the low speed, high torque electromechanical driving system to our robust cutting chamber design, shredder are design for energy efficiency and low maintenance cost.
♦ Low noise & Non-ballistic operating-Low speed and high torque industrial shredders operate at low noise levels without creating dust and flying particles.
♦ IP65 Stainless steel electrical cabinet.
♦ High alloy heat treated cutter for extra long life,anti-corrosive and wear-resistant.
♦ NSK tapered roller bearings, hexagonal cutter shafts designed for extra durability.
♦ Maintenance platform for operator easily go in and make maintain.
♦ Big hopper size W1200xL2600mm make the shredder can hold the whole cattle, horse, or pig.
Electrical Cabinet
IP65 stainless steel electrical cabinet, good anti-corrosion.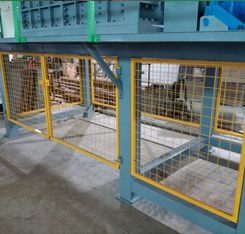 Mash Cage
AS2000 base install mash cage in order to prevent worker goes in accidentally.
Safety Switch
Shredder automatically stop if door is opened accidentally.
Maintenance Platform
AS2000 install maintenance platform and stair makes the worker do maintin and climb easily.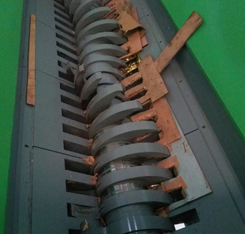 Big Cutting Chamber
W650xL2000mm chamber is big enough to hold the whole cattle, horse,  or pig.
High-Strength Sideboard
High-strength casting sideboard and powerful 37KW motor make the pre-breaker robust and reliable.