TIMO offer two type integrated shredder and sterilizer for medical waste shredding(size reduction) and sterilizing, they are steam sterilization type model AS30 & AS75 and disinfectant liquid type model PS150 & PS750, please kindly see the information as below:
Integrated Shredder & Sterilizer (Steam Sterilization Type)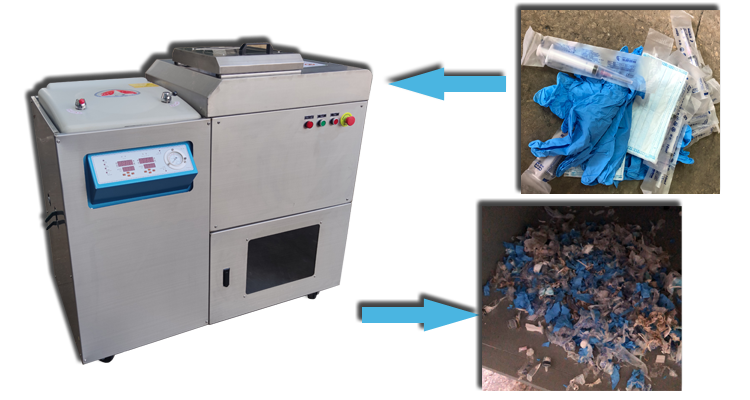 The Integrated Shredder and Sterilizer model AS30 & AS75 are suitable for laboratories, dialysis centers, clinics and hospitals. This health-care facilities use only steam and electricity to process highly infectious hospital waste on site, such as waste bags, cardboard or rigid containers containing all kinds of surgical, medical and research and healthcare waste, like sharps, gloves, labware, glass, plastic/rubber tubing, filters etc. without emitting harmful substances. Basically, the entire process is automatic except for manually taking the sterilized waste from sterilizer to the shredder, depending on the capacity, the total cycle time can be as fast as 15-40 minutes, with up to 30-75 Liter of medical waste can be processed.
After being treated, the medical waste is fragmented, non-toxic and therefore safe to be disposed of as regular municipal waste. The high grade stainless steel vessel conforms to the Pressure Equipment Directive and the industrial shredder is cross-cut two shaft shredder with powerful shredding blades that can automatically reverse to clean the jammed waste to reduce the size and volume of the waste down to 10-20%. The steam is produced by a internal steam generator and draining system as standard accessories.
The system includes a simple control panel,  the sterilizing time, chamber temperature, chamber pressure and waste sterilization status can be manual setting. The control system ensures high reliability, simplicity, safety of operation and automatic biomedical waste process cycles.
AS30 & AS75 Specifications:
♦ Type: high temperature, pressure and vacuum autoclave with industrial shredder
♦ Process: sterilization prior to Shredding
♦ Sterilization temperature: +5~134°C
♦ Sterilization pressure: ≥0.2≤ 0.3 Mpa
♦ Microbial Inactivation: 99.99%
♦ Waste volume reduction: 60-80%
♦ Rated power: 2.2+3 KW / 7.5+3 KW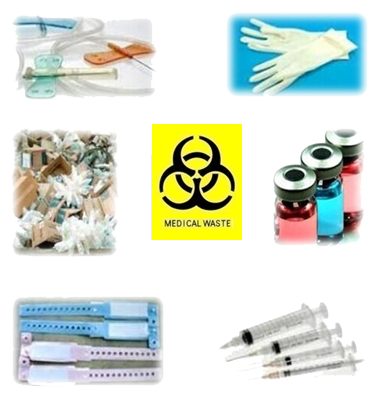 Integrated Shredder & Sterilizer (Disinfectant Liquid Type)
Integrated shredder & sterilizer model PS150 & PS750 are mainly used for crushing and disinfecting post-use medical waste, such as medicine bottles, infusion tubes and needles, syringes, disposable gloves, cotton gauze and some pathological wastes, to prevent them from being recycled by criminals, for harmless treatment, and it can also greatly reduce storage space. The whole bag of used medical waste can be put into the machine for crushing, deformation and chemical sterilization.
PS150 & PS750 are specially designed for on-site treatment of medical waste generated in small medical institutions, clinics, hospital departments and other places. The crushing method adopts our company's original four-shaft cycle crushing. The output flakes size are less than 8mm. The sterilization method uses chemical disinfectant liquid, which can effectively kill 99.9% of germs. No waste gas or waste water is produced during the working process. The harmlessly treated medical waste can be treated as ordinary garbage, and at the same time, It effectively reduces the volume of medical waste by 70%, greatly reduces the storage space of medical waste, and reduces transportation costs. The machine has a series of advantages such as miniaturization, low noise, simple operation, safety and reliability.
PS150 & PS750 Specifications:
♦ Small footprint – Can be installed even in a small space indoors. Total height does not exceed 1.65M.
♦ Low noise – No exceed 70db during work.
♦ Chemical liquid sterilization – Spraying chemical disinfectant liquid during the process of four-shaft cyclic crushing and continuously stirring make the liquid fully contacts the medical waste to achieve full sterilization effect, no waste water or gas producing.
♦ Safe and reliable – Automatically stop when the feeding cover is opened accidentally to ensure keep operator safe.
♦ Simple operation—Simple operate with touch screen.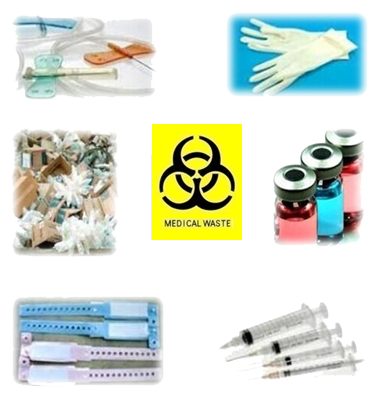 You need to add a widget, row, or prebuilt layout before you'll see anything here. 🙂