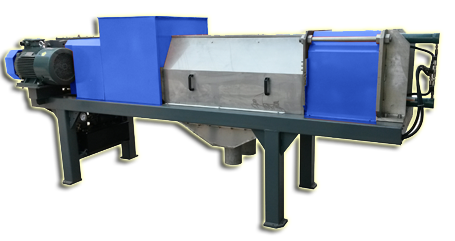 Timo specializes in the design, engineering and manufacture of screw presses. These are machines that squeeze liquid out of organic material, operating in a continuous (not batch) mode. Dewatering screw press can be used in an extremely wide variety of liquid-solid separation.High-capacity, sanitary press for continuous dewatering and juicing of organic and food products,independently driven rotor and regulated cone section provides instantaneous pressure regulation to give just the right squeeze to the material.We offer small screw press with Φ240 mm on up to big model 6 tons/hr with screws that are Φ400 mm in diameter.
As the animation on below, the working principle of dewatering screw press is that squeezes the material against a screen or filter and the liquid is collected through the screen for collection and use.It is a simple, slow moving mechanical devise that accomplishes dewatering by continuous gravitational drainage. Different materials require different screw speeds, screw configurations, and screens, we are able to design a screw press that is best for you.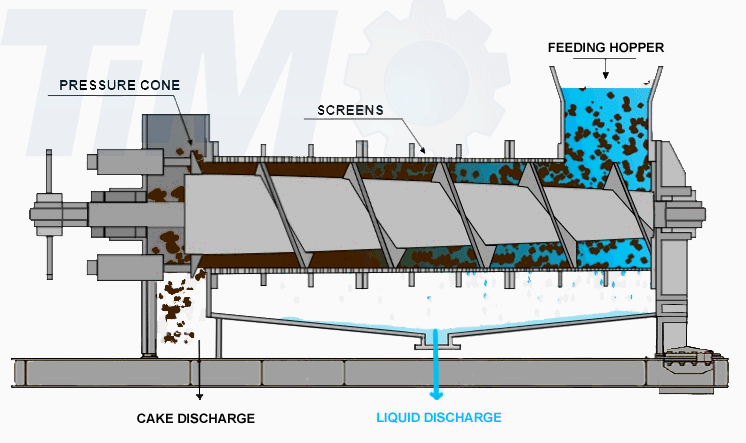 Dewatering Screw Press Feature:
♦ Stainless steel wetted parts for abrasive waste and residues.
♦ Peak values in dry matter content.
♦ Heavy duty construction.
♦ Hydraulic backpressure cone devise
♦ Two-piece screen design allow for easy cleaning and maintenance
♦ Can accept widely varying flow rates
♦ Custom Designed for Every Application
♦ Easy to install and operate.
Applibation:
♦ Pulp and paper industries
♦ Food processing & Agriculture
♦ Chemical industry
♦ Municiple biosolids